Champagne Leafing suits best for the areas where the Client neither yearns to do Gold leafing nor Silver leafing. Champagne is the semitone of Gold and Silver Leafing. As the name suggests the Champagne Effect in leafing represents the precise colorant.
The champagne leafing provides a subtle effect and feel to the walls and ceilings, it also provides the two-toned appearance of Gold and Silver. Champagne Leafing boosts the lustre of the surface and puts on a very contemporary look. There are two types of champagne leafing viz. light and dark.
We can remodel any space with champagne leafing and that will be a certified eye-catching gaze to visitors. Along with installation, Gold Craft Studio® also provides maintenance services to our clients regularly. We try our best with the most up-to-date resources in our backyard to keep your gilded place fresh and radiant 24×7 for 365 days and year after year. 
The highlights of Gold Craft Studio are the superiority of raw materials which are used to gild the commodities along with the modern techniques used by our company in combination with creative techniques. Our extensive experience and skilled employees with a dedication to service for the complacency of our clients are the enigmas to our success.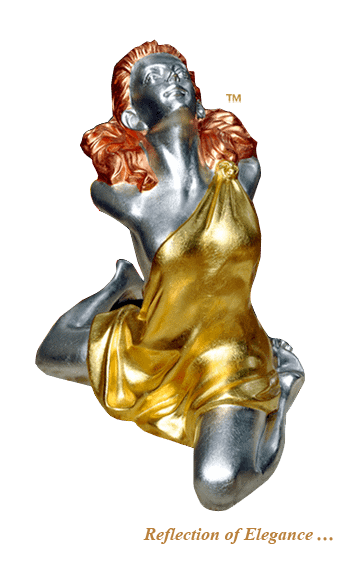 Indulge in the unparalleled elegance of champagne leafing at Gold Craft Studio, where we specialize in creating mesmerizing surfaces that exude luxury. With our expertise in champagne leafing techniques, we bring a touch of opulence and refinement to spaces across Delhi, Mumbai, Kolkata, Hyderabad, Chennai, Bangalore, Cochin, Ahmedabad, Baroda, Rajkot, Gurgaon, Noida, Chandigarh, Rohtak, Amritsar, Pune, Surat, Bhopal, Indore, Lucknow, Jalgaon, Varanasi, Mathura, Allahabad, Kanpur, Raipur, Shimla, Orissa, Bhubneshwar, Guwahati, and Vishakhapatnam.
Champagne leafing is a unique and luxurious form of surface decoration that involves the application of delicate layers of champagne gold, resulting in a captivating and radiant finish. Our skilled artisans meticulously apply champagne leafing to a variety of surfaces, including furniture, decor items, architectural elements, and more. The soft and warm tones of champagne gold create an atmosphere of sophistication and timeless beauty.
At Gold Craft Studio, we are committed to delivering exceptional craftsmanship and attention to detail in every project. Whether you desire a touch of champagne leafing for a single object or wish to incorporate it into an entire space, our team can create customized solutions to bring your vision to life.
Elevate your surroundings with the captivating charm of champagne leafing. Contact Gold Craft Studio today to discuss your project and let our skilled artisans transform your space into a haven of luxury and elegance.