Hotel Taj Heritage , Mumbai
Gold Leafing
Sarovar Hotel (Solapur)
Gold & Champagne Leafing
Matahari Club (Worli)
Gold Leafing
Agarwal Builders (Nagpur)
Gold Leafing
Hotel Hilton (Chennai)
Gold Leafing
Mainland China Restaurants (Mumbai)
Gold Leafing
Mainland China Restaurants (Mumbai)
Gold Leafing
Citi Bank (Mumbai)
Gold Leafing
Novotel Hotel
Champagne Leafing
Hyderabad Palace
Gold & Champagne Leafing
Matahari Club (Worli)
Gold Leafing
Manipal University (Jaipur)
Gold Leafing
Residence Dome (Hyderabad)
Champagne leafing
Matahari Club (Worli)
Gold Leafing
Novotel Hotel (Mumbai)
Champagne Leafing
Sarovar Hotel (Solapur)
Gold Leafing
Adani Corporate Office (Ahemadabad)
Copper Leafing
Manipal University (Jaipur)
Gold Leafing
Novotel Hotel (Juhu)
Champagne Leafing
Matahari Club (Worli)
Gold Leafing
Farm House (Delhi)
Gold Leafing
Hotel Taj Blue Diamond, Pune
Silver Leafing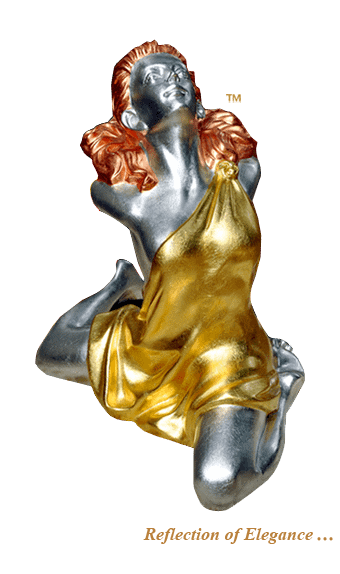 Welcome to Gold Craft Studio®
Gold Craft Studio®, a state-of-the-art creative studio committed to the process of metal leafing (Gilding). It is a creative and contemporary leafing studio affianced in providing gold leafing, silver leafing, champagne leafing, copper leafing and antique leafing services. Gold Craft Studio bequeaths with incomparable art-work with the hold up of experienced artisans and technically advanced equipments.
Our clientele includes Trident Hotel, ITC Group, Hotel Taj Mahal Palace, City Bank, Shiv Sena, are some of the distinguished names in Indian hospitality industry. We have offered our eminent services to Celebrities, Corporates, Leading Architects etc.
Antique gold leaf holds a timeless allure that adds a touch of opulence and grandeur to any project. At Gold Craft Studio, we specialize in the art of antique gold leaf, where we meticulously apply layers of authentic gold leaf to create a captivating vintage effect that evokes a sense of nostalgia and elegance.
Our skilled artisans have a deep understanding of the antique gold leaf technique, utilizing traditional methods and craftsmanship to achieve an authentic and aged appearance. Each delicate layer of gold leaf is carefully applied, allowing the warm and rich tones of gold to shine through, reminiscent of bygone eras and classic aesthetics.
Antique gold leaf can be applied to various surfaces, including furniture, frames, mirrors, sculptures, and architectural details, enhancing their beauty and giving them a distinctive antique charm. The intricate patterns and meticulous detailing created by our artisans further elevate the allure of antique gold leaf, making it a focal point of admiration.
At Gold Craft Studio, we take pride in our commitment to quality and craftsmanship. Our dedication to precision ensures that each antique gold leaf application is flawlessly executed, resulting in a stunning and authentic finish that surpasses expectations.
Experience the enchantment of antique gold leaf with Gold Craft Studio. Let us transform your project into a captivating masterpiece that pays homage to the timeless elegance of the past. Contact us today to discuss your antique gold leaf requirements and embark on a journey of timeless beauty and sophistication.
Gold gilding is the epitome of luxury and refinement, bringing an exquisite touch of elegance to any surface. At Gold Craft Studio, we specialize in the art of gold gilding, where we meticulously apply thin layers of genuine gold leaf to create a stunning and radiant finish that elevates the aesthetic appeal of your project.
Our skilled artisans possess a deep understanding of the gold gilding technique, utilizing their expertise and precision to ensure flawless application and a seamless integration with the surrounding design. The shimmering brilliance of gold adds a captivating allure, instantly transforming ordinary objects into extraordinary works of art.
With gold gilding, the possibilities are endless. From furniture and frames to sculptures and architectural elements, we can customize the gold gilding to suit your specific vision and preferences. Whether you desire a classic, opulent look or a modern, contemporary design, our artisans can create a bespoke gilded finish that surpasses your expectations.
At Gold Craft Studio, we are committed to delivering the highest quality craftsmanship in every gold gilding project. We take pride in our attention to detail and dedication to perfection, ensuring that each stroke of gold leaf is precisely applied to achieve a flawless and lustrous result.
Experience the timeless beauty and allure of gold gilding with Gold Craft Studio. Contact us today to discuss your project requirements and let our skilled artisans transform your space into a realm of unparalleled elegance and sophistication.
Gold leaves, with their radiant beauty and delicate shimmer, add a touch of opulence and splendor to any artistic endeavor. At Gold Craft Studio, we specialize in providing the finest quality gold leaves that are meticulously crafted to elevate your creative projects to new heights.
Our gold leaves are made using the highest quality materials and traditional techniques, ensuring their authenticity and brilliance. Each leaf is crafted with precision and care, resulting in a thin, delicate sheet that is easily applied to various surfaces. Whether you're a professional artist, a DIY enthusiast, or an interior designer, our gold leaves offer endless possibilities for enhancing your creations.
The versatility of gold leaves allows for a wide range of applications. From fine art paintings and sculptures to crafts, jewelry, and home decor, the richness and warmth of gold leaves bring a luxurious touch to every piece. The reflective properties of gold create an interplay of light and shadow, adding depth and dimension to your work.
At Gold Craft Studio, we are passionate about providing artists and creators with the highest quality gold leaves to bring their visions to life. With our carefully sourced materials and attention to detail, we ensure that every leaf meets the highest standards of excellence.
Discover the transformative power of gold leaves and unlock a world of artistic possibilities with Gold Craft Studio. Choose our gold leaves to infuse your creations with the timeless allure of gold, making a lasting impression that captures the essence of elegance and beauty.